bihar govt to regularise all contract employees, बिहार में सभी संविदाकर्मी नियमित होंगे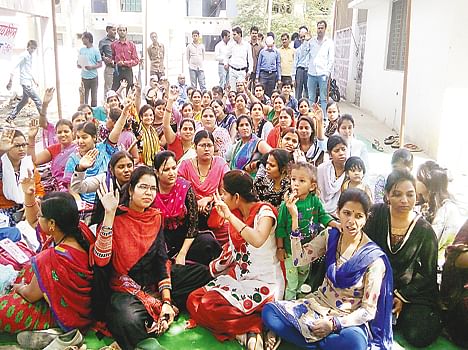 राज्य के विभिन्न विभागों में लगभग 3 लाख संविदा पर कार्यरत कर्मचारियों को नियमित करने पर गठित उच्च स्तरीय समिति रिपोर्ट को अंतिम रूप देने में लगी है. ऐसी संभावना है कि अगली बैठक में नियमित करने पर निर्णय लिया जा सकता है. रिपोर्ट को आधार बनाकर ही राज्य सरकार संविदा पर कार्यरत कर्मचारियों के लिए निर्णय लेगी. अगस्त से फैसला आ सकता है. नियमितीकरण के बाद कार्यकाल 60 साल की उम्र तक हों जाएगी. हालाँकि वेतन पर निर्णय इसके बाद आयेगा. हिंदुस्तान में छपी खबर के मुताबिक इस रिपोर्ट में हर विभाग में कार्यरत कर्मचारियों को नियमित करने का प्लान है. समिति ने 300 पन्नों की रिपोर्ट बनाई है जिसमे समिति ने 3 तरह के कर्मियों के नियमितीकरण पर विचार कर रही है जिसमे स्थाई पदों पर संविदा पर कार्यरत, दूसरा संविदा आधारित पदों पर कार्यरत और तीसरा आउट सौर्सिंग के तरह कार्यरत. 28 अप्रैल 2015 को गठित इस समिति को सिर्फ 3 महीनों में ही रिपोर्ट देना था लेकिन इस रिपोर्ट को तैयार करने में काफी समय लग गया. रिपोर्ट जमा करने के बाद यह समिति इसे लागु करने में सरकार का सहयोग करेगी साथ ही कर्मियों के वेतन निर्धारण और नियमित अन्तराल पर वेतन वृधि पर भी विचार किया जायेगा. समिति में पूर्व मुख्य सचिव अशोक चौधरी उच्च स्तरीय समिति के अध्यक्ष है. वित्, शिक्षा, स्वास्थ्य, पथ निर्माण, जल संसाधन और विधि विभाग के प्रधान सचिव सदस्य है. समान्य प्रशासन विभाग के प्रधान सचिव सदस्य सचिव हैं.
Do you like the article? Share this Or have an interesting story to share? Please Click here or write to us at talkduo@gmail.com, or connect with us on Facebook and Twitter.